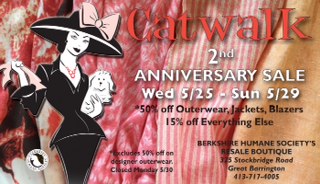 CATWALK Resale Boutique is happy to announce our 2nd anniversary, and we are celebrating by holding a Memorial Day week-end sale commencing Wednesday, May 25th at 10am. All spring outerwear and jackets will be 50% off, and all items in the store will be 15% off. This is a great opportunity to kick-start your new spring and summer wardrobes as we finally move into warmer weather.
All profits from CATWALK directly benefit Berkshire Humane Society so shopping at CATWALK is truly guilt-free shopping. Our spring and summer clothing and accessories are bright, colorful and fanciful with new arrivals every day.
CATWALK's 2nd anniversary sale begins on Wednesday, May 25th and will run through and including Sunday, May 29th. Please note that we are closed on Memorial Day. CATWALK is located at 325 Stockbridge Road in Great Barrington right next to Happy Nails.
For more information please visit us and like us on Facebook. Remember that the homeless animals of Berkshire County are counting on your love and support.