Our Mission
Our mission is to provide a steady and predictable revenue stream to help financially support Berkshire Humane Society.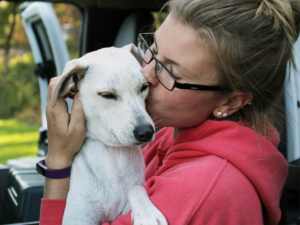 Berkshire Humane Society (BHS) is the only open-admission animal shelter in our community. Our shelter is a private non-profit and is not affiliated with any other animal welfare organization. BHS receives no public funds from local, state, or federal sources. The welfare of our companion animals and the future of our organization depend on the compassion and generosity of our community – you!
Since its beginning, BHS has sheltered more than 50,000 homeless animals. Our shelter is proud to place 100% of all adoptable dogs, cats, birds, and small mammals into loving, responsible homes. Every time you shop at Catwalk Boutique, you support this invaluable work.
A Brief History
Catwalk Boutique's flagship store opened in Great Barrington in 2013. Co-founded by three animal-loving volunteers – Mimi Rosenblatt, Marsha Weiner, and Leslie Weil – the successful resale shop has blossomed into a thriving staple of South County's fashion community.
Mimi, Marsha, and Leslie were all instrumental to the success of Purradise, Berkshire Humane Society's feline satellite adoption facility located just down the road at 301 Stockbridge Road in Great Barrington. In an effort to provide additional fundraising for Purradise and the main shelter in Pittsfield, Mimi, Marsha, and Leslie dreamed up Catwalk Boutique. Their tireless devotion and passion for fashion has made this boutique a destination for shoppers visiting the Berkshires from all over New England and beyond.
In 2019, Catwalk Boutique opened a second location at 26 Church Street in Lenox, bringing the same hip, affordable fashion to our central and northern county supporters.
Catwalk Boutique is almost entirely run by dedicated volunteers. Their love, support, and endless energy imbues the shop with warmth. Many returning shoppers stop by just to say hello. If you haven't shopped with us yet, we can't wait to meet you!
About the Co-Founders
Mimi Rosenblatt has been a passionate animal lover her entire life. Beloved pets have included dogs, bunnies, ducks, turtles, tropical fish, hamsters, gerbils, lizards, and, of course, cats. After living in San Francisco, Ca. and Austin, Tex., Mimi relocated to the Berkshires in 2004. She became involved with BHS in 2010 as an original member of the Purradise Advisory Board where she has put her public relations and fund-raising experience to good use. Founding CATWALK has allowed Mimi to "marry" her love of fashion with her love of animals. When Mimi isn't working at CATWALK, she teaches fitness classes at Berkshire Functional Fitness and hosts "Cat Chat" a weekly radio program on WSBS. Mimi lives in Great Barrington with her husband Mark Lefenfeld and their three rescued cats, Talulah, Paulie and Roxanne.
Marsha Weiner who hails from the Midwest has lived in the Berkshires since 1996. Her passionate love of animals led to her an active involvement with BHS. Marsha has been involved with Purradise, the South County feline adoption center of BHS, since its inception in 2010. Founding CATWALK was a natural extension of Marsha's continuing dedication to helping the homeless animals of Berkshire County. Marsha lives in Great Barrington with her husband, Dr. Ed Weiner and their two rescued cats Munro and Tyrone. Marsha and Ed are avid hikers who are "godparents" to various canine hiking buddies. Munro and Tyrone, who prefer to relax at home, are thrilled that the neighborhood dogs provide such great outdoor companionship to Marsha and Ed.
Leslie Weil has been a Berkshire Humane Society (BHS) board member since 2010 and is currently the Vice-President of the board. She relocated to the Berkshires from NYC full time to devote herself to all things animal-welfare related. In addition to all of her volunteer hours for BHS, Leslies works part-time at Chez Pet in Lenox. Leslie has an extensive background in interior design, sales, fashion and graphic design. Leslie lives in Stockbridge with her husband Mark Lee and their two rescued cats Tetley, 17, and Mikey, 8.
ALL OF THE HOMELESS ANIMALS IN BERKSHIRE COUNTY
ARE COUNTING ON YOUR LOVE, SUPPORT AND GENEROSITY.</center